About Us
Blackstone Rubber Industries Pvt. Ltd. is one of the leading names when it comes to the best tyres, retreading and other related products. Our group has not only achieved expertise in offering tyres of all major brands manufacture retread materials for mould-cure and precure operations, but also in marketing tyre-service and maintenance tools, accessories and other products. We have become an expert in the domain of manufacturing a large ambit of Tools, Tackles and Machines that is widely used for the maintenance of OTR Tyres. Today we are reckoned as a manufacturer, exporter and supplier of Nylon Tyre Patches, Radial Tyre Patches, OTR Tyre Patches, Tyre Related Tools, Tire Removal Tool, Retreading Of Tyres, New Tyres, Tubes & Flaps etc. Fabricated by quality tested materials, these products serve the applications with complete satisfaction. The entire range is manufactured using latest technology that has been proved to be the best in the international market.

We have achieved ISO 9001 certification for the first time in the tyre retreading sector. The whole retread procedure is completely certified. Our R & D team works continuously to improve quality and offer the best retreading, new tyres, tubes, Flaps, tools & Tackles, etc. By offering high quality products of major brands, we enable you save precious time as well as money. We have the record of serving more than 1000 items in the domain of tyre care, repair and service. With our high end services, we have not only earned the trust of limited and private players but also of varied leading State Transporters such as H.R.T.C, R.S.R.T.C, O.S.R.T.C, T.N.S.T.C, N.B.S.T.C KERALA, S.R.T.C etc.

Our Mission

To offer distributors and patrons with outstanding range of products that is premium and guaranteed. We can customized the complete range for meeting / exceeding the standard expectations of our customers that too at affordable prices.

Vision

To be the worldwide leader in offering quality products and services in the sector of tire repair industry.
We are leading Tyre Repair Material Exporter like Tyre Repair Patches, Tube Patches, etc.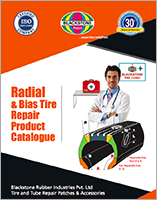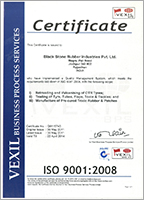 Read More